Overview
The heart of abuse prevention and response is education and training. The Education Department of The Safe Center offers extensive learning opportunities on emerging topics related to abuse using cutting edge research for all sectors of society: individuals, neighborhoods, community organizations, schools, colleges and universities, religious institutions, fraternal groups, small businesses, service providers, corporations and everything in-between.
If you would like to book a training, contact our Education Department at training@tscli.org.
WHAT'S NEW
Trauma and Addiction: What neuroscience and trauma-research tells us about addictive behaviors. REGISTER HERE.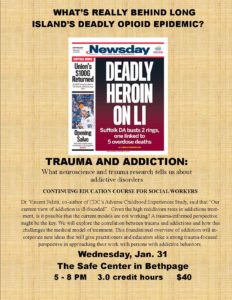 NY State Mandated Reporter Training. REGISTER HERE.